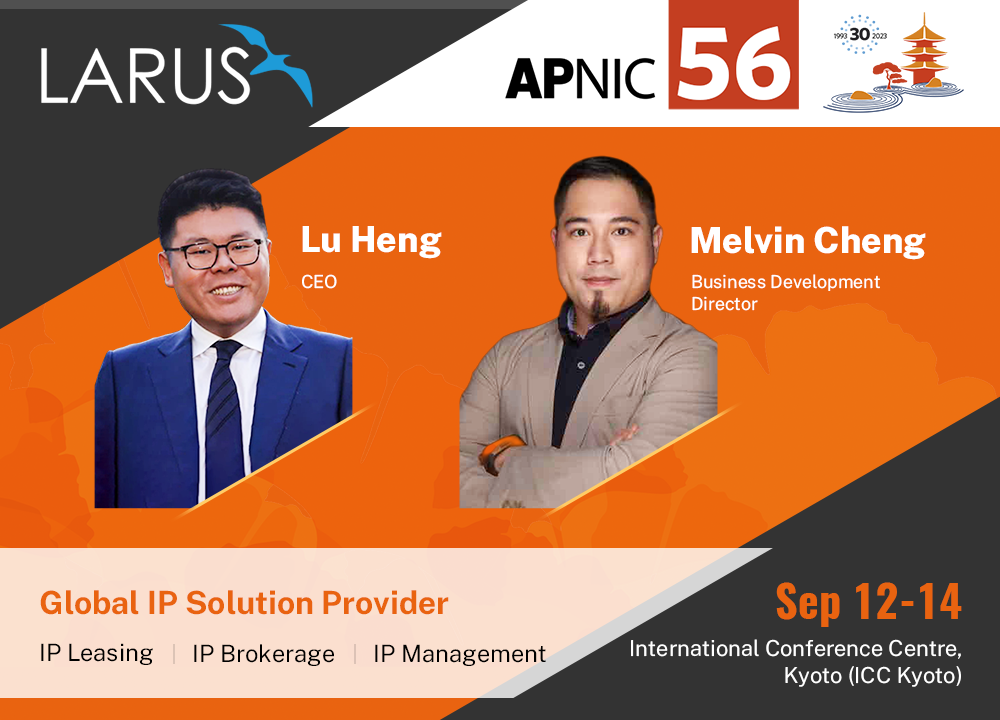 LARUS Ltd. is proud to announce that we're joining the biggest Internet conference in the Asia-Pacific Region: APNIC 56.
APNIC 56 stands as the most prestigious conference of the Asia Pacific Network Information Centre (APNIC). It is set to take place in Kyoto, Japan, from September 7 to 14, 2023.
The event is a unique gathering for Internet and networking experts, government representatives, industry leaders, and interested parties worldwide.
Our very own CEO Lu Heng and Business Development Director Melvin Cheng will represent us at the event. Our team will actively engage in knowledge exchange, idea sharing, networking opportunities, and policy development concerning Internet operations.
Throughout the week, there will be technical presentations, panel discussions, and workshops. Additionally, attendees can look forward to engaging in social occasions like a welcome reception, gala dinner, and networking reception.
APNIC 56 will spotlight the pivotal challenge of ensuring universal Internet accessibility across the Asia Pacific region.
The key discussion points will revolved around:
- Envisioning the future of the Internet in the Asia Pacific region
- Recognizing the Internet's role in driving economic development
- Exploring the societal impact of the Internet
- Addressing Internet security concerns
- Ensuring the long-term sustainability of the Internet
How to Join APNIC 56
To join APNIC 56, sign up for the event on the official registration page.
Take note of the dates for APNIC 56:
- Workshop and partner meetings: September 7 to 11, 2023
- Conference: September 12 to 14, 2023
- Early bird registration deadline: August 04, 2023
- Regular registration deadline: September 14, 2023
Would you like to know more about the event?
Contact us
and we'll be happy to answer any question you may have.