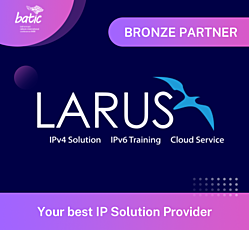 Bali Annual Telkom International Conference (BATIC) represents innovation and empowerment for businesses and the entire tech community. LARUS is proud to announce that we are part of the group of people who made BATIC 2023 a reality.
LARUS joins a small, select club of Bronze Sponsors for the upcoming BATIC 2023. We've gone beyond actively participating -- we've stepped up to help make the event happen.
Our Role as a Bronze Sponsor
The upcoming event, set in the finest venue and attended by the best in the industry, will showcase the latest and the best that our technology can offer. With more than 1,000 participants from more than 200 companies, BATIC 2023 is a juggernaut of an event.
Lots of heavy-lifting needs to be done to hold such an event. LARUS is proud to announce that we have helped in making BATIC 2023 an event to look forward to.
With our contribution as a Bronze Sponsor, we have helped in bringing together a huge network of businesses that will lead the way in technology and connectivity.
Important Partnerships for BATIC 2023
The two-day event will focus on enabling the future of digital experiences and Indo-Pacific's Web3 technology.
BATIC 2023, a blend of luxury, natural beauty, and cutting-edge technology, attracts some of the biggest names in tech. It is an opportunity for businesses to create new partnerships and strengthen existing ones.
Our Vision for BATIC 2023
BATIC 2023 is a gathering of some of the brightest minds in business and technology. We look forward to tackling some of the most pressing challenges in tech, particularly in connectivity and networking.
These challenges present the most exciting opportunities for innovation: Larus will be on both ends, to contribute to creating solutions that move us all forward.