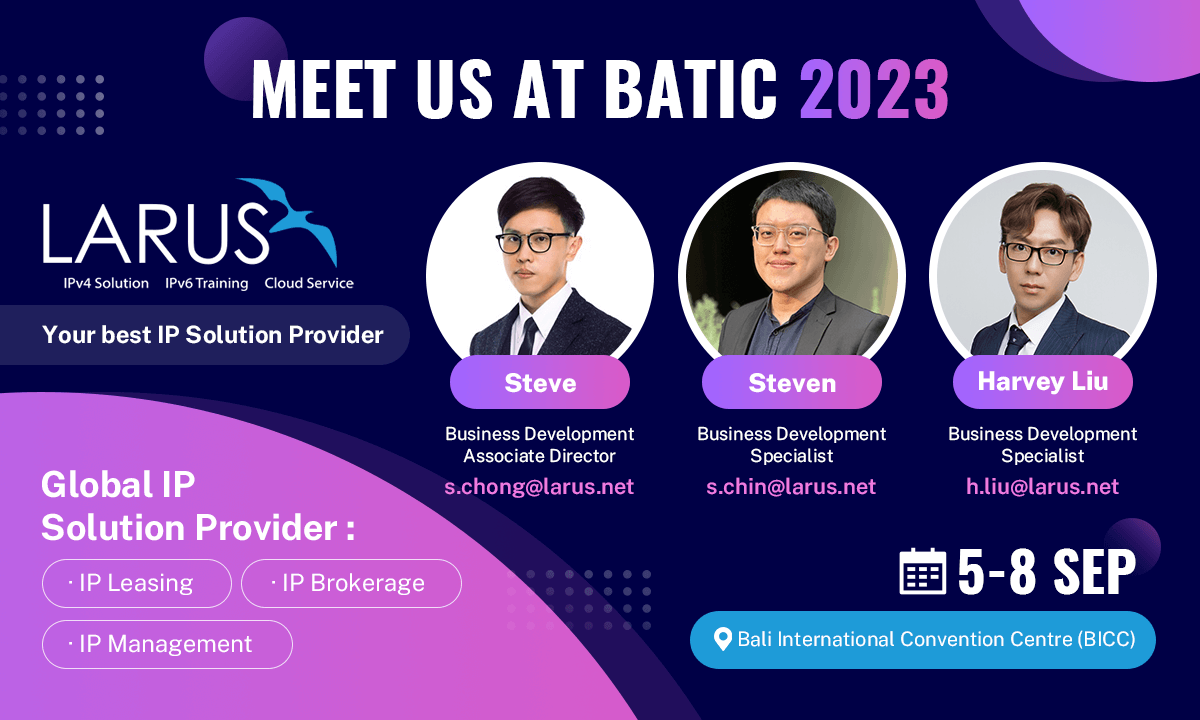 The future of networking and technology is right this way. Your search ends here. We are thrilled to invite you to a remarkable occasion that will give your business a new edge.
Discover how you can harness LARUS's innovations in connectivity, innovation, and collaboration -- to move your business forward.
Join us at the exclusive LARUS exhibition during the forthcoming BATIC event, where breakthrough advancements and visionary concepts will take centre stage.
These multi-date, multi-venue events will not only showcase LARUS's business-changing technologies. It will also show you the best of what the tropical world offers: fine beaches, exquisite dining, and an elegant atmosphere at the venue.

Event Details - BATIC Event 2023:

Date: 5 - 8 September

Venue: Bali International Convention Centre (BICC)

What LARUS Can Offer You
During our BATIC events, LARUS will showcase some technologies that will empower your business to operate faster, better, and more securely.
Our technologies enable swift and seamless data transfer, fortified security protocols, and an intuitive interface designed to make networking accessible to all, from tech enthusiasts to corporate leaders.

Blockchain, AI, and Technology: BATIC
The Blockchain, AI, Technology, and Innovation Congress (BATIC) is a meeting point for leaders and enthusiasts of the technology sector. This event is a dynamic gathering for thought leaders to convene, forge connections, and bring innovations to light.

Reshape Your Future with LARUS
To see the future is to stay ahead of the competition. This is what LARUS offers at our BATIC events.
Save the date, invite your network, and give your business an advantage that's uniquely yours. Join us at LARUS's Unparalleled Showcase within BATIC and embark on a journey brimming with infinite possibilities. Let us collaborate in shaping the destiny of networking and technology.
Would you like an itinerary? Contact us at LARUS.net or email us at info@LARUS.net. You may also reach out to us at s.chong@larus.net (https://hk.linkedin.com/in/stevechongmc), s.chin@larus.net (https://www.linkedin.com/in/steven-ong-83398b201/) or h.liu@larus.net (https://tw.linkedin.com/in/harveyliu811214) to secure your spot.