Larus Team 2021-01-07 03:10:10 IPv6
Since IPv6 implementation, Google keeps collecting statistics on the connectivity of IPv6 among Google users on a continuous basis. According to statistics collected by Google, the native of IPv6 increase from 0.04% since 2008 to 32.37% in January 2021. As we can see, the adoption increase in a slow path.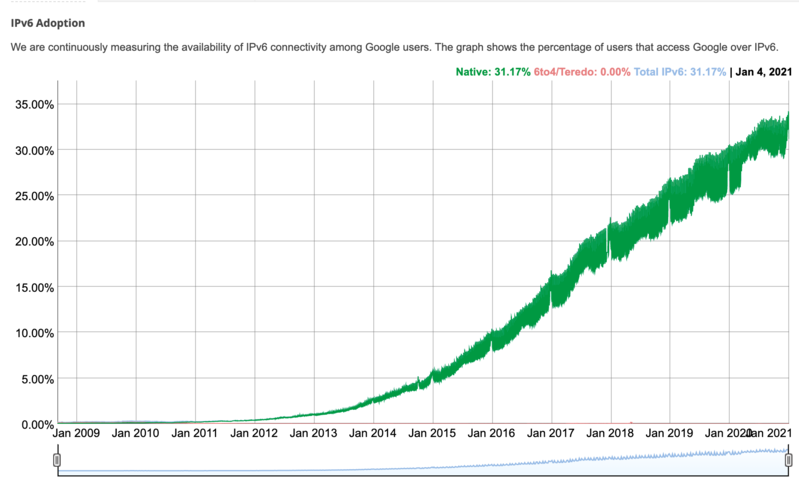 According to a research conducted by Akamai about IPv6 adoption in 299 countries and regions, there are 110 locations are adopting IPv6. The adoption rate within these locations are between 60.9% - 0.01%; 70% of these locations are below 20%. From these data, we can get to know the adoption of IPv6 is slow and it is long road ahead before it is fully adopted.
In 2013, the expected date for IPv6 to be fully integrated was May 10, 2148; the world currently stands at around 30%. There's few reason can justify why the adoption towards IPv6 is slow. Expensive network infrastructure, lack of benefits for early trendsetters, and end-user technology incompatibility play a significant role in the developmental delay are part of caused.
Being capable to facilitate IPv6 requires extensive bare-metal and other infrastructure resources which requires strong financial support, there is not all Internet Service Providers (ISPs) and telcos are capable of making investment on this . As a result, the pace of development depends mostly on the key market players. Even so, without small and medium enterprise in the equation, the industry is losing a considerable chunk of the organisations that could accelerate the implementation of IPv6. The vast bulk of end user devices are coherent only with IPv4, which covers around 70% of the internet. Switching from IPv4 to IPv6 are time consuming and costly. Besides, with the impact of COVID-19 to many companies, it will even slowdown the transition.
The implementation of IPv6 is growing slowly. However, there is still a long way to go before it is as freely functional. Companies that facing difficulties on this switch needs an instant solutions to keep up the scale and one of the ideal solution is to lease IPv4 address. Here at LARUS, we specialise in IP addresses solutions that involve buying and selling, or leasing and renting, which you'll have an option that matches your long-term IP address strategy and your budget too. Most importantly, our solutions are speedy and effective to solve your current IP problem. To know more about our plan, contact us through the live chat at bottom right or submit your contact details below.
Sources: Google, Akamai